Hello my dear readers! I can't believe that I have been out of blogland for so long!!! I guess I suffered from case of writer's block and as I mentioned before, I did not want to write posts just to write them... so a little time off turned into almost two months. How time flies! I hope everyone is doing well and I look forward to catching up with you :)
Here is a recap of what I have been up to *this may turn out to be a long post*
Early October MrH and I went to Georgia for his niece's birthday. Since the trip takes over 7 hrs we decided to make it a little more fun by incorporating some stops along the way. So first stop was Lane Orchards
We discovered awesome apple butter here the year before and I'm thinking this might be a pit stop every time we head up to Georgia.
Atlanta city
Our second stop was the Coke factory in Atlanta. There was so much to see! We learned about the history of how Coke came to be and saw how the bottles used to be made...
saw different bottles from different parts of the world, saw interesting artwork using soda cans and the best of all, had a go through the tasting room
entrance into the Coke factory
soda hailing from my part of this world :)
The rest of October/November was pretty routine. I was training for a half marathon that I ran on Nov 20th. I was so thankful to God that the runs and the race went off without a hitch
yeah I don't run pretty!
finisher's medal
In the process, I managed to drop a cool 6 pounds. Now I'm hoping I don't gain it all back between now and the end of the year...
I also made a monogram as a wedding gift for a friend of mine
Finally, MrH and I had a wonderful Thanksgiving with family and friends. It was wonderful to catch up with everyone as some people we only get to see once a year. Here were my contributions to the feast:
oreo balls*
cheese ball*
So there you have it! I hope everyone had a wonderful Thanksgiving. Take time to reflect on all the blessings that God gives to us. Right now, I am distinctly aware of how blessed we are with health, and how much I take it for granted! MrH and I have been fighting colds since Thursday but we are thankful because we both had the weekend to recuperate and even though we aren't 100%, we are well enough to go to work this week. And I am thankful that I have finally gotten around to writing again :)
Have a blessed week dear reader and take time to reflect on His blessings as well as look for opportunities to be a blessing to others!
Linking up to: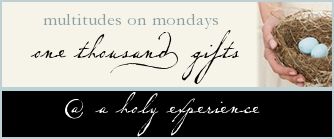 *I forgot to take pictures so I found pretty ones online