That wonderful tingling anticipation
The crispness in the air
The aroma of beautiful inspiring interesting creativity seeping from our pores
Of course we all know it means that Christmas is HERE!!!
It has been aptly named the most wonderful time of the year and yet.......it can be the most stressful as well right? I mean we have to ensure that the outside lights are hung right after the Thanksgiving meal is cooling in our bellies.
We must find cute Advent calendars to put out so that we can have a tangible Christmas countdown
Of course the perfect Christmas tree has to be found and decorated soonest!
And, how can I forget, we need to start sending out those cute either hand-made Christmas cards or the perfect photocard or that jaw-dropping ecard amiright???
Yet, my house is bare (gasp!) The only indicator that Christmas is acknowledged is the wreath on my door. I don't even know what to get everyone on my list and I have not even started working on my oh-so-long cutesy diy gift list. I am not sure I have enough cards stashed away to send to relatives and the photocard pic I had lined up...well I have not yet gotten it the mail so I prolly will not have time to print them out and send them in time.
Is this what I had envisioned? No. Would I love to have my house decorated by now this year? Of course. Would it be great to check off a ton of stuff each day as I get it done? Oh yeah! Will I be able to get everything done? Probably not
You know what though? I think I am ok with that. I think God is showing me that I should focus on what is more important. Like the fact that MrH and I spend a deliciously lovely Saturday hiking with wonderful friends. Like the fact that I sit down with God each morning rereading the stories of Christ's birth and realizing how much He must love me in order to give up so much...
Did you know that Jesus had skeletons in His closet?
His lineage was nothing to boast about:
-one ancestor slept with his daughter-in-law (Matt. 1:3)
-another married a prostitute (Matt. 1:5)
-another still killed his son's step-father (Matt. 1:6)
-while another led the whole nation in child sacrifices (Matt. 1:10)
His birth was nothing to boast about: His manger was not some clean looking crib with soft hay. It was used by the animals and I'm sure the hay was not 'Clean Linen' scented.
What am I saying?
That it is ok to be in whatever state you are this Christmas season as long as you remember the most important reason for it. Be glad for all the decorating and partying and gift-buying for family/people across the world BUT MOST OF ALL remember to be thankful for the Selfless One who left it all for the sake of you and I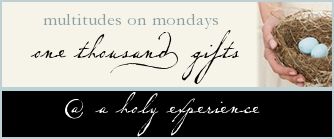 As I continue my list I am thankful for:
#168 a Savior so willing to forsake all His glory for the sake of someone like me
#169 feeling Christmas cheer everywhere I go
#170 morning devotions, meeting with God
#171 a deliciously perfect Saturday
#172 having fun with Mark and Audrey, getting to know them better
#173 still quiet rivers reflecting the trees above them
#174 a hubby who spoils me with shopping sprees out of the blue
#175 anticipation of getting creative with decorations
#176 knowing the perfect gifts for a few people on my list (including the gratitude book)
#177 bible study where the Spirit convicts my heart (ouch!)
#178 loving all the beautiful Christmas light displays
#179 finally can listen to Christmas music guilt free - yes I'm one of those who sneak some in even in June!
#180 singing Chrismas carols to my heart's content
#181 getting together with friends all over to celebrate
#182 learning to surrender (I'm sure this will appear on my list so many times!)
#183 humidity is gone for now yay!
What are you thankful for ?